WElcome to training legends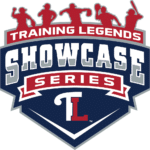 Open tryouts for travel teams!
Training Legends Showcase Series
Training Legends is excited to host the latest editions of our popular Showcase Series!
Players and families can save time by trying out in front of multiple teams and organizations in their age group in a single session!
Coaches get to focus on evaluating players and meeting families while Training Legends staff runs the tryout!
Over 200 players and 100 coaches have attended our Showcase Series events!
Calling all travel, all-star, and rec baseball players!
Consider participating in one of our summer Showcase events! This is a terrific opportunity for players to demonstrate their skills and receive an objective evaluation as they prepare for the 2018/19 season. 
Quick INFORMATION & Links
OPEN FOR REGISTRATION!
SUMMER SHOWCASE
Training Legends will be continuing our Showcase Series this summer. Travel teams can scout new talent and both travel and rec players can receive an objective, quality evaluation of their skills.
Rec and All-Star players: This is a great chance to get ready for skills day for the fall season at your park!
Travel players: Have fun in a great environment with your peers! If you're looking for a team, we'll share your information and performance summary with coaches who are looking to fill a roster spot!
All players will receive a Training Legends t-shirt as well as a performance summary and evaluation of their skillset based on their performance at the event.
Looking for Metro Atlanta and North Georgia baseball?
Check our calendar of ALL providers' events and baseball tournaments in Atlanta, Cobb County and North Georgia.